What happens when you get a DUI in Georgia? The arrested person (typically) is read an implied consent law notice at the roadway, immediately after being arrested for drunk driving or drugged driving. One or more "types" of DUI can be accused by the officer including DUI less safe alcohol, DUI-less safe drugs, DUI per se (being over the legal limit for alcohol), in making the arrest for DUI.
This statutory "warning" under OCGA 40-5-67.1 is an integral part of DUI laws in GA. The notice is telling you that refusal to undergo forensic testing of your breath, blood or urine can cost you all ability to keep driving in Georgia. Not being able to drive is one of the most frightening of all Georgia DUI penalties, since being unable to drive can end a person's employment.
Any answer (except "yes") by the arrested DUI suspect after this reading of the implied consent law admonishment will result in the arresting officer starting an administrative license suspension. This civil (not criminal) legal process seeks to have the Georgia DDS take away your driving privileges for the next 12 months.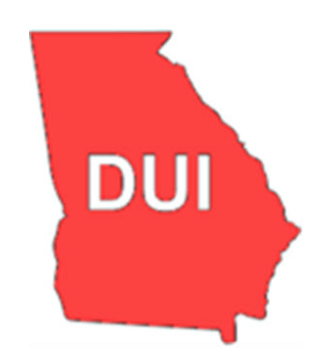 Those who AGREE to the State's post-arrest testing are also told (in the warning) that after taking the State-administered test, she or he can obtain their OWN INDEPENDENT TEST. Those who do not say "yes" to the DUI test will not be accommodated in getting a test of their own choosing.
The detainee can request that blood, breath, or urine (or all three) be tested at a facility of their own choosing. But this testing is done also at their own expense.
If convicted, what are the Driving While Intoxicated or DUI Penalties in Georgia?
Most people fear DUI jail time Georgia more than any other punishment for DUI in Georgia. Any conviction of a first DUI offense triggers a license suspension. But, if age 21 or over, most are eligible to obtain a limited driving permit for the 120 days, and then apply for (and pay for) early license reinstatement.
Punishments such as paying fines, undergoing a clinical evaluation for alcohol or for drug dependency and attending DUI school will be part of the requirements. Performing community service hours will be mandated. With some judges and case facts, being required to use an ignition interlock device may be part of the court's sentence. 
Because most DUI arrests are for driving under the influence of alcohol, Georgia lawmakers came up with an administrative license suspension alternative. The use of this new statute is for those who refused the post-attest implied consent testing. This must be accomplished with 30 days after the DUI arrest.
This involves a choice by the arrested DUI driver to pay for and install an ignition interlock device (IID). After an implied consent refusal, most adult-aged drivers licensed in the Peach State can opt for (under O.C.G.A. 40-5-64.1) and obtain a DDS GA permit to install and maintain a 12 month IID. 
This will allow that driver to have limited driving privileges. No early removal of this interlock device is permitted, even if the criminal case for drunken driving is dropped or reduced.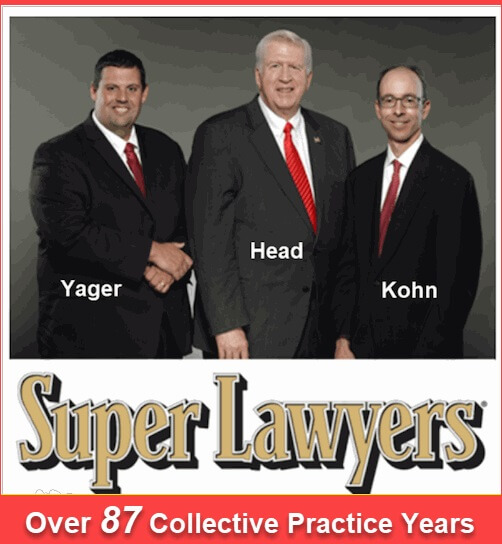 How Much is a DUI in Georgia? Citizens facing DUI charges in Georgia think about the obvious, immediate impact on auto insurance rates. 
Many think that the worst long-term punishment will be increased car insurance costs and investigate what kind of boost in premiums they would face. But they forget that Georgia law on DUI makes any conviction a permanent criminal record, which cannot be expunged — ever!
Miscalculating how much is a DUI ticket in Georgia. In researching GA DUI consequences, many accused citizens will try to research DUI laws in Georgia and then calculate the higher car insurance premiums versus the DUI lawyer cost. Looking at that "number," they then decide to "cap" their attorney fees cost at that number. 
That is like worrying about a deck chair on the Titanic, when not drowning should be the first concern. The big concern is not putting a permanent blemish on your driving history (and criminal record) for any DUI conviction, including a first lifetime DUI offense.
Most DUI arrests in Georgia are for a 1st offense. the other 20% who are facing a potential DUI second offense or a 3rd DUI in GA will face a different path for their cases. In many courts, a client will risk significant jail time by undertaking the legal fight to beat a repeat offense GA DUI is not successful.
The accused citizen faces either agreeing to the DUI court program or Drug Court program or taking his or her chances at trial. By declining the treatment program, many courts will not allow that alternative if you do not plead guilty. 
Therefore, all accused DUI arrestees need immediate information about their potential jail time and total loss of ability to legally operate a motor vehicle. 
Therefore, top lawyers for DUI in GA offer free consultation lawyer services. Legal advice from a skilled professional is needed immediately after any DUI arrest in Georgia. For Spanish speakers, go to this page for info about DUI en Georgia.
Consequences of a DUI on the Georgia DUI First Offense Penalty
Whatever DWI-DUI lawyers charge you to fight and not "plead out" the case is worth your investment, if that DUI criminal defense attorney obtains a reduction of charges, dismissal (nolle prosequi) or an acquittal.
Over the course of a year, transportation costs can easily exceed $25,000 or more. This assumes a person has to go to his or her employment yet lives in Gwinnett County or Hall County and works in Cobb County or Clarke County.
More notes and details follow this chart on Georgia DUI laws. By starting with the DUI chart, you can quickly gauge what repercussions and consequences a repeat DUI offense can cause if convicted. Because our DUI attorneys near me offer 100% of accused citizens facing a DUI in Georgia a free lawyer consultation, ask about our flat fee retainer, which covers all aspects of most of our clients' DUI cases.
Going to court for a DUI without lawyer assistance. Every DUI conviction, whether a first lifetime DUI, 2nd DUI in GA or any other repeat offender, has mandatory minimum punishments that are required to be imposed if convicted.
Limitations Placed upon a Public Defender vs Private Georgia DUI Defense Lawyer
A public defender (PD) cannot represent you in the administrative part of your DUI arrest. This is the civil driver's license suspension (or revocation) that

MUST be completed

in the 1st thirty (30) days after arrest. A public defender can't pay your $150 filing fee for you or fill out your civil law paperwork for that client. Nor can an appointed DUI attorney appear in the OSAH court before the Georgia administrative law judge to represent you.

In Georgia, since the government is paying the bill, most trial judges will not readily approve hiring experts for your DUI case. At trial if a jury only hears from State "experts," this puts your side at a huge disadvantage, in most cases. If your PD can only cross-examine the GBI and police witnesses, your full story may not be told.

Much like going to a car dealership to buy a car, whichever lawyer you are assigned is your legal advocate. For almost all PDs, you will be hard-pressed to find any online lawyer ratings.
Our lawyers for DUI have never seen any state-paid attorneys for DUI be named by Super Lawyers on their listings, unless she or he was in private practice previously, and received that recognition. Some appointed lawyers do not hesitate to go to trial, but others will do anything possible to not be required to take a case to trial.
More details and information on Georgia DUI laws can be found below, in this GA DUI infographic chart. The chart posted above can help you quickly see what penalties and consequences a repeat DUI offense will cause if you are convicted.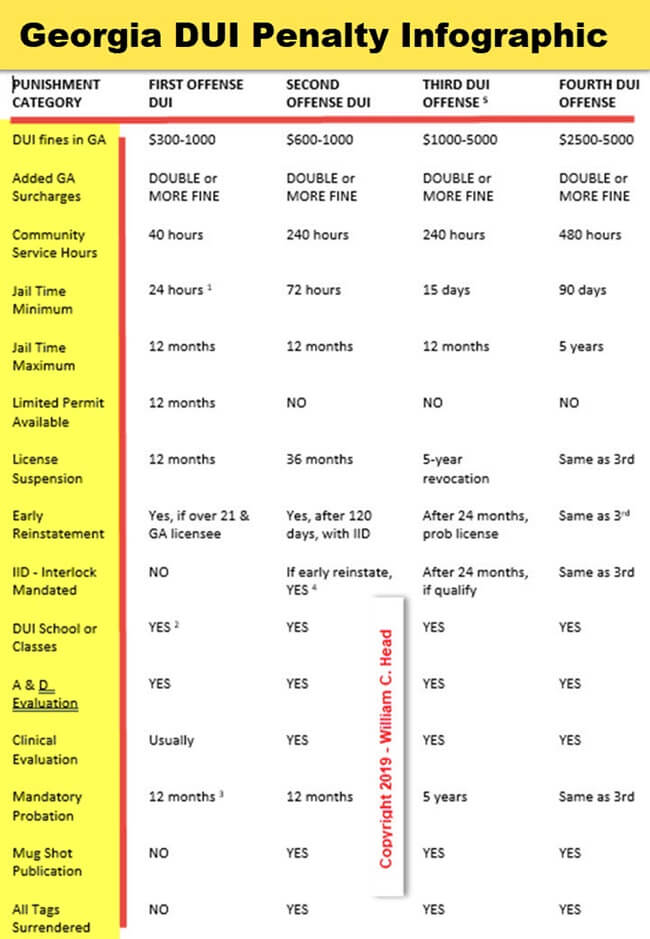 Our DUI attorneys near me offer a free lawyer consultation to 100% of accused citizens facing a DUI in Georgia, and we have a flat fee retainer that covers all aspects of most of our clients' cases. 
Without a lawyer, going to court for a DUI can be very difficult. Every DUI conviction, whether it is a first offense, a second offense, or any other repeat offense, has mandatory minimum punishments that must be imposed if you are convicted.
Call today and be connected to a DUI defense lawyer in Georgia by dialing 1-888-839-4384 anytime day or night. Let our experienced DUI defense attorneys handle this for you.