Aggravated DWI
Aggravated DWI Penalties – Enhanced DWI
An aggravated DWI offense can be charged when the defendant, while driving under the influence of alcohol, is involved in an accident where another person is injured or killed, or if the person's blood alcohol content (BAC) is at an extremely elevated level. For example, in the state of New York, an aggravated DWI is charged if a driver's BAC is 0.18% or higher. Aggravated DWI offenses are usually classified as a DWI felony. The basic difference between the two is that enhanced offenses are usually faced by DWI repeat offenders, while aggravated DWI offenses are charged in DWI cases involving injury or death.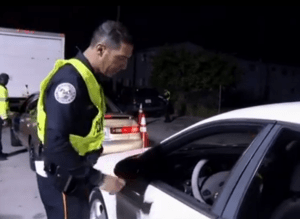 Enhanced DWI offenses are not the same as aggravated driving while impaired offenses. An enhanced DWI is an ordinary misdemeanor DWI offense that becomes a higher DWI felony offense by the allegation and proof of certain pre-existing conditions or circumstances, usually the existence of one or more prior DWI convictions (multiple DWIs).
Enhanced DWI offenses carry more severe DWI penalties than ordinary misdemeanor drunk driving offenses. In some states the enhancement of a drunk or impaired driving while intoxicated offense may be caused by conditions or circumstances other than prior convictions (e.g., driving while under suspension, a prior implied consent testing refusal, etc.). The conditions or circumstances that may form the basis of an enhanced DWI offense are different for each state.
Aggravated DWI Lawyer – Aggravated DWI New York – Aggravated DWI New Mexico
A misdemeanor DWI, or driving while intoxicated, carries harsh DWI penalties all on its own, but when you drive drunk with children in the car, you can be charged with an aggravated DWI, and you will be charged with one DWI per child. A veteran DWI lawyer has handled hundreds of aggravated DWI cases, and will mount the best DWI defense after learning the extenuating circumstances of your DWI arrest, and your prior DWI conviction history. Repeat DWI offenders need a top DWI lawyer more than anyone, for they face lengthy jail time and longer revoked license periods. No matter if your prior DWI conviction occurred in the same jurisdiction as your current DWI arrest, or if your aggravated DWI happened out of state, our top-rated DWI lawyers will go to court for you as much as possible so you won't have to travel back to where the arrest happened. You do, however, have to be present in court to enter your DWI final plea. We strongly recommend that you call us first for a free initial consultation to talk through aggravated DWI penalties and courtroom strategies. Aggravated DWI cases are very complex, and many ways exist to exclude the state's evidence, like filing targeted pre-trial motions before your case goes to trial.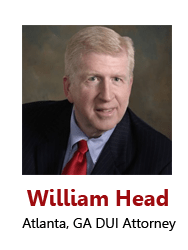 Call us at 1-888-839-4384 day or night 7 days a week.
Copyright 2015, by Atlanta DUI lawyer William C. Head, Atlanta, GA. Author of books on DUI law for a quarter of a century.