DeKalb County State Court is well-known to our top DeKalb County DUI lawyers, who have helped thousands of DUI defendants in this Georgia court over four decades. The State Court of DeKalb County location is 556 N. McDonough Street, Decatur GA 30030. The phone number is (404) 371-2261. A good DeKalb County DUI attorney with years of trial experience will never tell you to plead guilty at your first court appearance. More than 90% of GA DUI case verdicts never get decided by a 6-person jury, or by a judge during a bench trial. This is because over 90% of drunk driving defendants decide to plead guilty to all traffic offenses at the arraignment, or hire an attorney that does not want to bring cases to trial because of inexperience.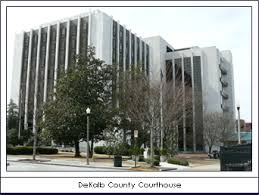 We appear in State Court of DeKalb County every week, fully prepared to to fight the State's evidence at every turn for our relieved clients. Georgia DUI cases, even misdemeanor ones, can go on for up to 2 years before you are found not guilty or guilty. The best criminal defense lawyers know full well that patience and waiting are advantageous to the defense. The court calendar stays booked year-round, and court dates get moved around all the time. Your attorney's legal staff will keep you posted about all upcoming DeKalb court dates, even if you don't have to attend in person.
Per Georgia law, the only court date you have to be present for is the last one where you enter a final plea. Our criminal attorneys will appear before the judge in your place, and will let you know what happened and what to do next.
DeKalb County State Court Solicitor's Office
The elected Solicitor General of DeKalb County State Court is Sherry Boston. Ms. Boston was appointed Solicitor-General by Governor Sonny Perdue in 2011 and was elected without opposition in 2012.
The court has seven judges each assigned to a separate division, and your case will be assigned to one of the following judges:
Division 1 Alvin T. Wong, Judge DeKalb County Courthouse Suite 2240 Courtroom D, 2nd Floor Ph: (404) 371-2591
Division 2 Stacey Hydrick, Judge DeKalb County Courthouse Suite 2210 Courtroom A, 2nd Floor Ph: (404) 371-2350
Division 3 Wayne M. Purdom, Judge DeKalb County Courthouse Suite 3220 Courtroom B, 3rd Floor Ph: (404) 687-7180
Division 4 Johnny Panos, Judge DeKalb County Courthouse Suite 2230 Courtroom C, 2nd Floor Ph: (404) 371-2354
Division 5 Mike Jacobs, Judge DeKalb County Courthouse Suite 3230 Courtroom C, 3rd Floor Ph: (404) 371-2300
Division 6 Dax Lopez, Judge DeKalb County Courthouse Suite 3240 Courtroom D, 3rd Floor Ph: (404) 687-7130
Division 7 Janis C. Gordon, Judge DeKalb County Courthouse Suite 2220 Courtroom B, 2nd Floor Ph: (404) 687-3999
After your drunk driving arrest by DeKalb County Police, your case will be reviewed by an Assistant Solicitor-General (ASG) in Ms. Boston's office. If the ASG decides to prosecute your case, you will be arraigned. Almost every drunk driving case gets prosecuted. If you plead guilty at your arraignment, you will be sentenced by the presiding Judge. If you plead not guilty, your case will continue through pre-trial motions hearings and calendar calls. If your case goes to trial, a 6-member jury will hear your case and decide your guilt or innocence.
Under Georgia laws, the larger population counties can set up "State Court" to handle misdemeanor DUI and other misdemeanor crimes like misdemeanor drug possession of less than an ounce of marijuana, as well as traffic offenses. DeKalb County State Court has jury trial authority. In Georgia, misdemeanor impaired driving trials consist of six (6) jurors instead of 12. Twelve jurors are impaneled for felony criminal cases.
Doraville DUI – Decatur DUI – Avondale Estates DUI – Stone Mountain DUI  – Chamblee DUI – Lithonia DUI – Brookhaven DUI
DeKalb County State Court has jurisdiction over arrests made in the unincorporated areas of the County. If you were arrested within the city limits of Doraville, Decatur, Avondale Estates, Stone Mountain, Chamblee, Lithonia, your DUI arraignment will occur in each city's municipal court if the charges are misdemeanors. For a felony DUI, or if you elect to have a jury trial, your case will be moved to State Court.
DrunkDrivingDefense.com puts you in touch with a highly-specialized DeKalb County DUI lawyer who handles impaired driving cases in every one of these cities. and is very familiar with the procedures and training of each city's police department.
For every FREE consultation with a DrunkDrivingDefense.com attorney, you will receive a FREE 430-page DUI book (PDF) and FREE DVD about how to win your DUI case. Call 1-888-839-4384 day or night.
Copyright 2016 by DeKalb County GA DUI lawyer William C. Head. Author of books on Georgia DUI law for a quarter of a century.


More Atlanta DUI Resources
To learn more about DUI Courthouses in Atlanta, take a look at some of our informative articles on the subject below.