Alpharetta Traffic Court – Alpharetta City Court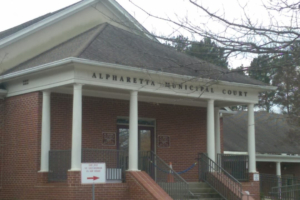 If you were arrested for Alpharetta drunk driving, your Alpharetta DUI case will be heard in Alpharetta Municipal Court. The City of Alpharetta Court is located at 12624 Broadwell Rd, Alpharetta, GA 30004.  The Alpharetta Municipal Court phone number is (678) 297-6250. One of our highly sought-after Alpharetta DUI lawyers will confidently appear with you in Alpharetta Court. Typically, your first court date is called an arraignment, a process where you enter a plea of guilty, not guilty, or nolo contendere to the DUI charge and other related traffic offenses. Other Alpharetta traffic offenses can include impeding the flow of traffic, an open container violation, and improper lane change. No matter if you have never stepped foot into Alpharetta Municipal Court, or you are familiar with the DUI proceedings because of prior Alpharetta DUI convictions, a highly-experienced impaired driving lawyer at your side gives you much more confidence during a very difficult time in your life.
Alpharetta Municipal Court Rules – Traffic Court Alpharetta Rules
As with all Georgia courthouses, you must obey all rules of the Alpharetta Court, including not bringing in prohibited items, no cell phone calls, and absolutely no tardiness. Municipal Court Alpharetta judges will not tolerate any inappropriate behavior, and a bailiff will escort you out of the courtroom if needed. When you meet with one of our Alpharetta DUI lawyers, he or she will explain how to act in court to have the best chance of winning your DUI case. The number one rule is to follow all Alpharetta Municipal Court rules. Do not bring any banned items into court, such as laptops. You are not allowed to work on a laptop or talk on a cell phone. We know that a day off from work is unproductive, but you have no choice. The Alpharetta Traffic Court runs on its own schedule and enforces its own rules, and you and your Alpharetta DUI lawyer must abide by them. Our well-known Alpharetta drunk driving lawyers will attend court dates in your place as much as possible.
Alpharetta Court Tips – Alpharetta DUI Lawyer Recommendations – Arraignment Court Rules
Other unwritten Alpharetta Court etiquette includes dressing well, paying attention to all proceedings, taking notes, and showing all traffic court employees the utmost respect. A typical session in Alpharetta Municipal Court lasts from 9:00 AM to 5:00 PM, and you are expected to be in court promptly at 9:00 AM. Your Alpharetta DUI lawyer will ask you to get to the courthouse 10 minutes early in case he or she needs to discuss case details and new developments with you. You will sit on one of the long courtroom benches with many other defendants, and your name will be called. We recommend that you pay attention to all of the proceedings, especially taking note of how the judge, prosecutors, and your DUI attorney interact. Our Alpharetta DUI attorneys work at some of the top law firms in Alpharetta, and command great respect when appearing in Alpharetta Court. Call now and talk directly with an Alpharetta DUI fighter! (844) 832-6384 day or night

Copyright 2015, by Atlanta DUI lawyer William C. Head, Atlanta, GA. Author of books on DUI law for a quarter of a century.