Cobb County State Court is a very familiar place to our top Cobb County DUI lawyers, who spend many hours successfully defending DUI defendants in all Cobb courts during a very stressful time. The Cobb County State Court location is 12 E Park Square, Marietta, GA 30090. The phone number is (770) 528-1200. A good Cobb County DUI lawyer exudes confidence in his or her ability to push back against tough and well-trained Georgia prosecutors, and do not get flustered when cross-examining your arresting officer. We appear in the State Court of Cobb County almost every day, fully prepared to present solid DUI defenses that win cases for our relieved clients. A day in State Court can be long and intimidating to clients who have never stepped foot in front of a judge.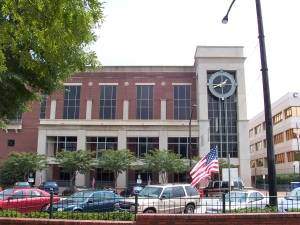 Cobb County, GA State Court
We know how to beat a DUI in Cobb County.
The elected Solicitor General of Cobb County State Court is Barry Morgan. Mr. Morgan started his prosecutor career at the Cobb County District Attorney's office in 1988. In 1993, he was asked by Ben Smith, the current Solicitor General, to move over to the Cobb County Solicitor Office to become the Chief Assistant Solicitor General. Mr. Morgan served as the second in command of the Cobb Solicitor's office until March 4, 1998, when Governor Zell Miller appointed Barry to be the Solicitor General after Ben Smith became the new District Attorney of Cobb County (also appointed by Governor Miller). Mr. Morgan has been re-elected at every election since that date, and currently is the Solicitor General of State Court Cobb County.
Mr. Morgan's office and staff have grown along with Cobb County's population growth. To facilitate managing the large caseload, Mr. Morgan has two Chief Deputy Solicitors General, Aurieanne Sneed, and Jimmy Newkirk. He also has two Deputy Chief Assistant Solicitors General, Christopher Lanning, and Melissa Tatum.
When one of the assistant solicitor general attorneys who have a case assigned to be prosecuted needs help or guidance on a possible plea offer or negotiated case disposition, the courtroom assistants can go to one of the two Deputy Chief Assistant Solicitors General for advice.
The State Court of Cobb County now has twelve (12) state court judges. Each of these judges has assistant solicitors general assigned to their courtroom. This permits all 12 courtrooms to operate simultaneously and independently. The Cobb County, Georgia State Court is split into two divisions, Division 1 and Division 2. Previously, the Division 2 judges were known as the Cobb County Traffic Court and did not conduct jury trials. Today, however, all 12 court locations are able to accommodate a jury trial or to conduct a non-jury trial (bench trial) for criminal (misdemeanor) and traffic cases that are brought before the court.
Under Georgia laws, the larger population counties can set up "State Court" to handle misdemeanor DUI and other misdemeanor crimes like misdemeanor drug possession of less than an ounce of marijuana, as well as traffic offenses. A State Court like Cobb County has jury trial authority. In Georgia, misdemeanor drunk driving trials consist of six (6) jurors rather than 12 jurors, as found in felony criminal matters.
At the start of your jury trial, a legal process called voir dire, or "to say what is true," is conducted by the prosecutor and your attorney in the presence of your assigned judge. To seat a 6-person fair and impartial jury, a potential jury pool of 15 Georgia citizens will be brought into the courtroom for the selection process. The State and your attorney are allowed a certain number of peremptory strikes, which means these jurors are excused without cause. The remaining potential jurors can be excluded for cause, for example, if someone is related to or knows the defendant. Jury selection can last for hours in a misdemeanor case, and the entire process must remain fluid. Once a panel of 6 jurors is finalized, your trial can proceed.
Marietta DUI – Acworth DUI – Kennesaw DUI – Austell DUI  – Powder Springs DUI – Smyrna DUI
Cobb County State Court hears all Marietta DUI, Acworth DUI, Austell DUI, Powder Springs DUI, Kennesaw DUI, Smyrna DUI, Mableton DUI, and East Cobb DUI cases. Each city also has its own Municipal Court, and your DUI arraignment may take place there. DrunkDrivingDefense.com puts you in touch with a highly-specialized DUI lawyer who handles impaired driving cases in every one of these cities. and is very familiar with the DUI procedures and DUI training of each city's police department.
In Cobb County, Georgia, you may be stopped and arrested for a misdemeanor criminal case or a traffic offense in one of the six municipalities within the county lines. These are Smyrna, Marietta, Kennesaw, Austell, Acworth, and Powder Springs. Unless your arrest was made by Cobb County police or a Georgia State Patrol officer in unincorporated Cobb County, GA, your first court appearance would occur in one of these six municipal court locations:
Acworth Municipal Court
4408 Acworth Industrial Drive
Acworth, GA 30101
Austell Municipal Court
5000 Austell-Powder Springs Road, Suite 175
Austell, GA 30106
Kennesaw Municipal Court
2529 J.O. Stephenson Avenue
Kennesaw, GA 30144
Marietta Municipal Court
240 Lemon Street
Marietta, GA 30060
Powder Springs Municipal Court
4484 Marietta Street
P.O. Box 46
Powder Springs, GA 30127
Smyrna Municipal Court
2800 King Street
Smyrna, GA 30080
When you enter the courtroom you will see a lot of other DUI defendants sitting on long wooden benches, with the overwhelming majority sitting alone and without a veteran attorney at their side. In one section of the courtroom sit a significant number of Cobb County police officers ready to recount each defendant's arrest details. The judge, the government prosecutor, and the police officers are fully prepared and ready to proceed with your DUI case, so your lawyer must be even better prepared.
The overwhelming majority of GA DUI cases never reach the trial phase. Instead, a lot of defendants plead guilty at their first court appearance, called a DUI arraignment. Other defendants are offered plea deals by the prosecution team before the start of their trial. As you search for a top-rated attorney, make sure your candidates have deep trial experience and not just lots of clients who plead guilty and accept the penalties. We do not advise our clients to give up. Many DUI defense strategies exist to protect your rights, and we will tirelessly craft the best defense tailored for your case specifics.
To see more Cobb County DUI lawyers, visit our sister site at TeamDUI.com.
DUI Arraignment at Cobb County State Court
Even if you don't have your own DUI lawyer at your first court appearance, called a "DUI arraignment," you will see other Cobb County drunk driving attorneys buzzing about the courtroom, going from client to prosecutor to judge, already building a strong DUI defense and devising a winnable strategy. Every case is different and each requires a tailored defense strategy. This may be your first DUI, you may already have multiple Cobb County DUIs, your current DUI may be a felony charge, or your drunk driving incident may have involved injuries or even death. If you face a more serious DUI felony charge, your case may be moved to the Cobb County Superior Court. The Cobb County Superior Court location is 70 Haynes St, Marietta, GA 30090. The phone number is (770) 528-1801. A Cobb County State Court judge hears every type of tragic circumstance imaginable, from having children in the car at the time of arrest (Child Endangerment), hit and run, evading police, and charges of DUI Drugs.
Our best Cobb County DUI lawyers have also represented thousands of clients who may have been traumatized by a friend's death, the prospect of a long jail sentence, driving while blacked out and crushing financial burden. This is no time to represent yourself. You need a tough lawyer who knows what to do and when to do it.
Retain All Arrest Paperwork
Your first court date in Cobb County State Court will be printed on your traffic citation paperwork. This paperwork was handed to you as you left the Cobb County Adult Detention Center. We know you were bombarded with paperwork after a long night in jail, but it is very important that you retain everything handed to you, including your bail bond company forms if you used this service, your list of personal articles form, your car impoundment forms, and other required forms. Every piece of paper should be copied and given to your Cobb County criminal law firm, which will review it and put it in your permanent file. Also, try to write down the name and phone number of anyone who witnessed your arrest so your lawyer can contact each witness as he or she builds your DUI defense. Remember, the prosecutor has a copy of your roadside breath test results, DUI blood test results, your police video, and possibly an audiotape of anything you said as you road in the back of a police cruiser.
Obey all court rules, show up early for court so your criminal defense attorney can discuss the latest developments, and pay close attention to all the traffic cases heard that day. You can learn from everyone else's case as you help your attorney mount a successful defense. We also recommend that you take notes as the day progresses, and ask your attorney any and all questions you have. A fully engaged defendant is our best client.
For every FREE consultation with a DrunkDrivingDefense.com Cobb County GA DUI attorney, you will receive a FREE 430-page DUI book (PDF) and a FREE DVD about how to win your DUI case. Call 1-888-839-4384 day or night.
Copyright 2016 by Cobb County GA DUI lawyer William C. Head. Author of books on Georgia DUI law for a quarter of a century.