Cherokee County State Court is a very familiar environment to our top Cherokee County DUI lawyers, who spend many hours vigorously defending clients in this court during a very stressful time. The Cherokee County, Georgia State Court location is 90 North St, Canton, GA 30114. The phone number is 678-493-6550. A good Cherokee County GA DUI lawyer excels in his or her ability to fight back against tough and well-trained prosecutors, and will extensively cross-examine your arresting officer and any other State's witness. We appear in State Court almost every day, fully prepared to win difficult cases for our clients. A court hearing can be intimidating to our clients who have never stepped foot in a criminal courtroom.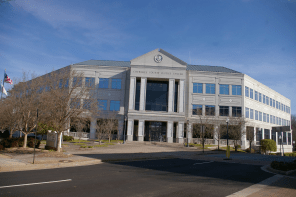 Cherokee County State Court Arraignment
When you enter the courtroom for your DUI arraignment, you will see a lot of other defendants sitting in long wooden benches, most sitting alone without a veteran attorney representing them. The judge, the prosecutor, and the police officers are fully prepared and ready to proceed with your DUI case, so your lawyer must be even better prepared. You do not have to appear in person at your first appearance. We will do that for you and will enter a not guilty plea on your behalf.
Jessica Moss is the Solicitor General of Cherokee County State Court. Gov. Nathan Deal appointed Ms. Moss in 2012, replacing the Hon. David Cannon.
One of three State Court judges is assigned to each misdemeanor drunk driving case. Chief Judge W. Alan Jordan, Judge A. Dee Morris, and Judge Michelle L.H. Homier maintain a full court calendar, and are available for a bench trial if your attorney determines this is the better option over a jury trial.
Motions Hearings and Calendar Calls
Your attorney may file pre-trial motions on the day of your arraignment. These motions are filed to obtain copies of all the police evidence that the prosecutor plans to use against you at trial. This includes breath test results and your blood alcohol content level at time of arrest, blood test results from a local hospital or lab, and the videotaped performance on your field sobriety tests. Your attorney will invite you to watch the arrest video, and will ask you questions about what took place. The more we know, the better we can build a winnable DUI defense strategy.
Your judge may call a motions hearing where each side presents their argument for a motion being granted or denied. After the judge hears all arguments he or she typically will convene the hearing and issue a ruling on the motion in a few weeks. All timelines in a drunk driving case are fluid and can change at any moment. Cherokee judges and prosecutors stay busy with a full caseload, and newer cases may take precedence over yours. Cases do not go in order of arrest date. Your attorney's office will inform you of upcoming court dates and will tell you if you are required to appear in person. Most court dates do not require your presence.
A calendar call will be scheduled for your case after the motions phase is done, if the prosecutor has not offered you a plea deal or reduction in charges. A calendar call means that your case will be scheduled for trial soon. At the calendar call, the judge will ask if both sides are ready to proceed to trial. If yes, then a trial date will be set. If not ready, your attorney or the prosecutor will explain the delay to the judge. Legal negotiations and discussion will continue, and if you attend your calendar call, you may not understand what is being discussed. Your lawyer will explain everything that is happening, and will recommend the next steps to take.
Jury Selection and Trial
If you want a jury trial, a 6-member jury will be impaneled, and your trial will take place in the same court. In Georgia, misdemeanor drunk driving trials consist of six (6) jurors rather than 12 jurors, as in felony DUI trials. At the start of your jury trial, a legal process called voir dire, or "to say what is true," is conducted by the prosecutor and your attorney in front of the judge and you. To finalize a jury, a potential jury pool will be brought into the courtroom and asked questions about their background. The State and your attorney are allowed a certain number of peremptory strikes, which means potential jurors can be excused "without cause". The remaining people can be excluded for cause, for example, if a juror is related to or knows the defendant. Once a panel of 6 jurors is finalized, your trial begins.
As you search for a top-rated attorney, make sure your candidates have decades of trial experience, and don't just have lots of clients who plead guilty and accept the penalties. We will never advise our clients to simply give up. Drunk driving cases can last for months or years until a final resolution is reached. Patience is advantageous. If you begin to feel the stress of postponing and rescheduling your case again and again, we understand. But in the end a lengthy fight works in your favor.
For every FREE consultation with a DrunkDrivingDefense.com Cherokee County GA DUI attorney, you will receive a FREE 430-page DUI book (PDF) and FREE DVD about how to win your DUI case. Call 1-888-839-4384 day or night.
Copyright 2016 by Atlanta DUI lawyer William C. Head, Atlanta, GA. Author of books on Georgia DUI law for a quarter of a century.