DUI Lawyer Athens GA – DrunkDrivingDefense.com
Copyright 2016 Athens GA DUI Lawyer William C. "Bubba" Head
Bubba Head has been an Athens GA DUI attorney for 40 years. Starting in September of 1970 he worked at First National Bank of Athens (now SunTrust), and practiced in Athens long before the City and County were unified. Buddy Milner was President of the Bank and Ed Scarborough was Bubba's boss.
Athens-Clarke County Municipal Court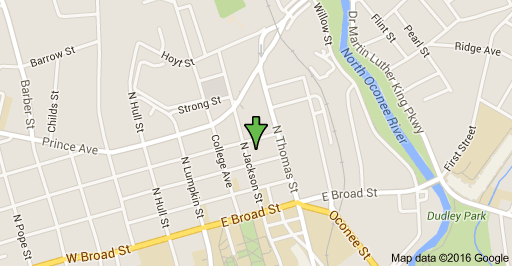 Most Athens-Clarke County misdemeanor arrests will start the arraignment process in the Municipal Court of Athens-Clarke County, GA. A knowledgeable DUI attorney in Athens, GA who challenges DUI arrests at trial usually must move the case from Athens-Clarke County Municipal Court to the State Court of Athens-Clarke County for a trial by jury.
Athens-Clarke County State Court is in the same government building located at 325 E. Washington St, Athens, GA 30601. Municipal Court is on the ground level and the State Court proceedings are handled on the 4th floor (small courtroom) and 5th floor (jury trial courtroom). The phone number is (706) 613-3690.
Athens-Clarke County Superior Court
Felony cases in Athens, Georgia are handled in Superior Court of Athens-Clarke County. Both the Athens-Clarke County Municipal Court and State Court handle misdemeanor cases such as DUI, marijuana possession, underage possession of alcohol. So, the prosecutor handling the Municipal Court misdemeanor case is part of the same misdemeanor prosecution team of the Athens-Clarke County Solicitor General's office. Carroll [C. R.] Chisholm is the elected misdemeanor prosecutor who oversees both criminal courts. By far, the most common criminal trial in Athens-Clarke County State Court is impaired driving and any related traffic offenses.
An Athens GA DUI Lawyer Handles Both Your Criminal and Civil Hearings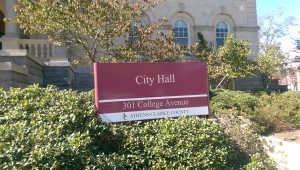 The veteran criminal defense attorney who appears for you in criminal court can also handle your civil administrative license suspension (ALS) hearing. This will either be for a refusal, or for taking the breathalyzer and being over the legal BAC limit.  These ALS hearings are heard by a different administrative law judge at the Council Chambers in the Athens-Clarke City Hall located at 301 College Avenue. This historic building is only about 500 yards from the Athens-Clarke County Courthouse, a block down East Washington St., just west of where the misdemeanor criminal cases are handled. The ALS hearing is scheduled separately by a judge from the Office of State Administrative Hearings (OSAH), based out of Atlanta. This is an entirely different non-criminal license action, different from the criminal charges made by Athens-Clarke Police, the Georgia State Patrol, or UGA Police.
Misdemeanor drunk driving trials are conducted with a 6-person jury in the State Court of Athens-Clarke County. Like all Georgia misdemeanor DUI cases, a jury trial in misdemeanor criminal cases like drunk driving will consist of a six (6) person jury. Each side (Solicitor and defense attorney) gets to question the jurors and see who needs to be disqualified. This process is called "voir dire," a French term that means "to seek the truth." Once the panel of six is selected and sworn to "well and truly try the case," the jury will be impaneled and your trial will begin.
Athens-Clarke County Probation Office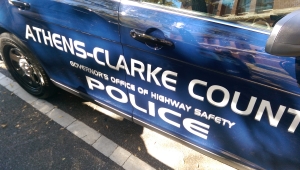 If you plead guilty to an impaired driving charge or are found guilty, probation with the Athens probation office is required for every DUI conviction. For over 40 years, Georgia law has always mandated 12 months of probation for all misdemeanor DUI cases (first offense DUI, second offense DUI, or third offense DUI within a 10-year period under current law), and probation must be for the full 12 months, less any days that the person is sentenced to jail time. Currently, a fourth DUI offense in Georgia is a felony, with up to 5 years of probation.
Athens-Clarke County Probation is the agency that oversees all misdemeanor DUI probationers. Probation officers have a small satellite processing office on the first floor of the Athens-Clarke County Courthouse located at 325 East Washington St, Athens, GA 30601. Once a case is processed in court, the person sentenced then meets briefly with a probation officer to give a photo (headshot) and some biographical information.
However, the main office where monthly reporting takes place is physically located near the Athens-Clarke County jail at 1720A Lexington Road, Athens, GA 30605. The Athens Probation office main phone number is 706-613-3911. The fax number is 706-613-3707, and the email address is probation@athensclarkecounty.com. Nearly 20 probation officers service both misdemeanor and felony probation cases, and DUI Court and Drug Court supervision. There is also a Veteran's Court probation officer at the probation office.
Since 1976, Athens GA DUI lawyer Bubba Head has handled both misdemeanor and felony cases in Athens-Clarke County. This includes DUI-drugs and DUI-alcohol prosecutions. His cases are heard in both state courts and federal court (Middle District Court of Georgia). The overwhelming majority of criminal cases handled by Mr. Head and his other criminal defense lawyers associated with his law firm have been misdemeanor driving under the influence cases. The Athens-Clarke County Municipal Court and the Athens-Clarke County State Court are where you will find Bubba Head representing his clients.
DUI Lawyers Athens, GA
DUI Lawyers in Athens, GA know Bubba Head, and his unyielding reputation for fighting and winning driving under the influence cases. He has been trying DUI cases in Athens over the past 40 years. He is Board-Certified in DUI Defense and co-author of "The Georgia DUI Trial Practice Manual," published by the world's largest legal book publisher, Thomson-Reuters-West. Only a handful of lawyers can claim to have been handling drunk driving cases or criminal cases for 40 years.
Call Athens, GA DUI lawyer Bubba Head at 706-621-3625 or toll free at 1-1-888-839-4384. Mr. Head will vigorously defend you or your family member in any of these courts:
Athens Clarke County Magistrate Court
Athens Clarke County Municipal Court
Athens Clarke County State Court
Athens Clarke County Superior Court
Athens Clarke Municipal Court
Athens GA Municipal Court
Athens Magistrate Court