When the Distinction Between DWI vs DUI is Critical to Avoiding Lengthy Prison Time
By: William C. Head, Atlanta DUI Lawyer
For people facing repeat drink driving convictions, hiring a top DUI lawyer is essential to getting the best outcome. Most states have enacted DUI laws to impose heavy prison time on repeat DUI-DWI offenders. Because of these minimum mandatory punishments, being able to show substantive differences in DWI vs DUI laws between states can save a person years in state prison.
With three prior DWI convictions under his belt, Mr. Thomas was arrested on federal property, so his new impaired driving case had to be handled in federal court. Ultimately, based upon the federal trial judge's analysis of "similarity of DWI vs DUI laws between Maryland and Virginia", he was convicted in the lower federal court under the Assimilative Crimes Act, and harshly sentenced for being a 4th DUI offender. The case was appealed to the Fourth Circuit Court of Appeals.
In the case of United States v. Thomas, 367 F.3d 194 (4th Cir., 2004), a critical appellate ruling of the lower federal court decision to convict for a 4th offense DUI, this ruling helped Mr. Thomas get out of a federal prison, saving him many additional years of incarceration on a fourth offense DWI charge. Quoted passages from the holding show how the DWI vs DUI distinction is analyzed by a court, applying constitutional analysis and emphasizing the value of hiring a great DUI attorney to fight for you.
"To determine whether the Maryland convictions could serve as predicates for Thomas' fourth-offense conviction, we must consider the applicable substantive law. Thomas was charged with violating the Assimilative Crimes Act, see 18 U.S.C.A. § 13, which assimilated Virginia's DWI statutes, see Va.Code Ann. §§ 18.2-266, 18.2-270(C).2. The existence of the predicate convictions constitutes an element of the offense of fourth-offense DWI. See McBride v. Commonwealth, 24 Va.App. 30, 480 S.E.2d 126, 127 (1997). For previous convictions to constitute predicate offenses under § 18.2-270(C), the statutes on which the previous convictions are based must be substantially similar to Virginia Code § 18.2-266. See Commonwealth v. Ayers, 17 Va.App. 401, 437 S.E.2d 580, 581 (1993). That "does not mean that the other state's law must substantially conform in every respect to Code § 18.2-266. Only that prohibition of the other state's law under which the person was convicted must substantially conform." Id.(alterations & internal quotation marks omitted). A statute is substantially similar if any actions violating the statute necessarily would violate the Virginia statute as well. See Turner v. Commonwealth, 38 Va.App. 851, 568 S.E.2d 468, 472 (2002). The burden is on the Government to prove that a prior conviction was under a conforming statute. See Shinault v. Commonwealth, 228 Va. 269, 321 S.E.2d 652, 654 (1984)."
The holding of this case is: For a motorist's previous convictions for alcohol-related driving offenses to constitute predicate offenses required to support charge of fourth-offense driving while intoxicated (DWI) under Virginia law, the Maryland statute on which these previous convictions were based would have to be substantially similar to Virginia DWI statute; this did not mean that Maryland's DWI law had to substantially conform in every respect to Virginia statute, but only that the prohibition of the Maryland law under which a motorist was convicted had to substantially conform.
Only top DUI lawyer advocates would know to make such an important legal challenge to avert a disastrous prison sentence. This type of aggressive, leave-no-stone-unturned approach is what you must have to expect a great outcome for a difficult driving under the influence case. Call our toll-free number and locate a top DWI lawyer to assist you in fighting for your freedom, and a remarkable outcome like in this case. Call us today: Toll Free at 1-888-839-4384 and we will explain DUI vs DWI prison time.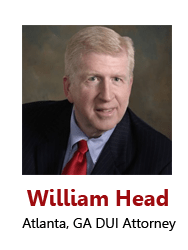 For every FREE consultation with a DrunkDrivingDefense.com DUI attorney, you will receive a FREE 430-page DUI book (PDF) and FREE DVD about how to win your DUI or DWI case.
Copyright 2015, by Atlanta DUI lawyer William C. Head, Atlanta, GA. Author of books on DUI law and DWI law for a quarter of a century.