DUI Checkpoints Near Me – Police Checkpoints Tonight
By: William C. Head, DUI Lawyer

State and local police departments that utilize DUI checkpoints decide when, where, and how often police checkpoints will be set up in their jurisdiction. As an example of a state DUI checkpoint policy, the Georgia State Patrol mandates extra traffic enforcement laws training, including how to set up GA sobriety checkpoints. However, beyond suggesting regular use of safety checkpoints or license checks, the local state patrol post in each area determines when to deploy their DUI checkpoints.
Turning to local enforcement, some police agencies have publicized the fact that their police officers will set up at least one roadblock every day. So, if you are going out on the town after work today, you should be on the lookout for DUI checkpoints tonight. Plus, for states that permit sobriety checks, occasional daytime DUI checkpoints will be used, just to let impaired drivers know that the local police are aggressively enforcing their police checkpoints.
The deterrence effect caused by knowing that police will be establishing DUI checkpoints today has the effect of making motorists who are drinking and driving rethink their decision-making.  When lack of prior planning results in a DUI arrest, the driver will be calling a DUI attorney.
California DUI Checkpoints Near Me
Multiple counties and cities in California have utilized constant news media coverage of sobriety checkpoints, and constant DUI checkpoints deployment to reduce the likelihood of drunk drivers being caught for driving under the influence.  San Diego is on such location, as well as Santa Barbara, Pasadena, Ventura County and many other locations. CHP (California Highway Patrol) sets up its own police checkpoints locations, but typically often notifying local police departments before deployment. Source: San Diego State
WAZE DUI Checkpoint Finder
Young drivers were the first to utilize cell phone technology and other DUI checkpoint apps to find checkpoints. Initial efforts to post daily publicized information failed, because news sources were sporadic in their coverage. Plus, some states' DUI checkpoint laws do not mandate prior publicity, and say that putting out signs, cones, and fares on the highway is sufficient warning.
The WAZE app is the most popular and prevalent phone app for identifying police checkpoints locations. The app is not solely crafted to help motorists find "checkpoints near me", but simply reports tips from other motorists on the highway ahead of the app user's route.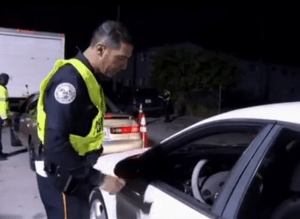 Once WAZE was installed on millions of cellphones, police noticed that the DUI road check traffic was yielding fewer impaired drivers. Like all technology, false data can be added to WAZE "reports" to trick approaching drivers. A recent news reports on this practice of posting false WAZE data proves that both hackers and police may "game the system" for their own purposes. Source: WAZE
The bottom line is that 38 states and the District of Columbia will utilize police checkpoints tonight. If you want to identify locations of these police checkpoints tonight, no foolproof technology or phone app can assure that you will not be arrested at a roadblock if you are driving while intoxicated.
Call us at (404) 567-5515 so we can refer you to a top DUI lawyer in your area. We answer the phones on weekends and holidays too.